SELLING PROPERTY AT AUCTION
Auction my house or property
If you've typed in "auction my house" or "sell at a property auction", you might be looking for a speedy and secure sale of your property. In addition to full transparency, selling at a traditional property auction will provide you with the security that once the hammer has fallen and contracts are exchanged, the buyer is legally committed to the purchase within 28 days.
All types of properties can be suitable for sale by auction in the UK. These include residential houses, maisonettes and flats (vacant or tenanted), commercial buildings and retail premises, former churches/schools, care homes, pubs and hotels, garages, land and development sites with or without planning permission. Ground rents, HMOs and Repossession properties are also popular auction lots.
Request a FREE, no obligation property auction valuation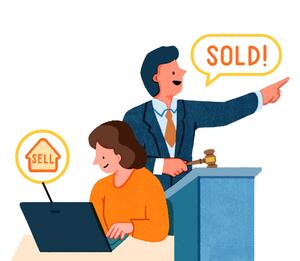 Are you thinking about selling your land or property at auction, and would like to receive a free, no obligation property auction valuation? 
We partner with some of the best performing auctioneers in the UK, including Clive Emson, Auction House London, and Future Property Auctions, all of whom provide a knowledgeable and professional service. So, if you would like to find out more about selling your land or property by auction, simply complete the short form below. A member of the auction team will phone you within 24 hours (unless it's the weekend or a bank holiday), to provide a free, no obligation auction appraisal and to chat through the auction process and the options available to you.
Please provide your email as we will send a note to confirm that your enquiry has been received. (Check your spam folder in case our email from info@ukauctionlist.com, is directed into there!).
Only complete this form if you wish to discuss SELLING at auction - the Contact Us form is for all other enquiries.