Selling at a Property Auction
Selling at a Property Auction
Are you thinking about selling at a property auction? Our auctioneers will advise on the price you can expect to achieve, the likely timescales and the costs involved. They'll agree a guide price with you and discuss the entry fee and commission up front, so there are no hidden surprises or worries. CONTACT US TODAY FOR A FREE, NO OBLIGATION AUCTION VALUATION.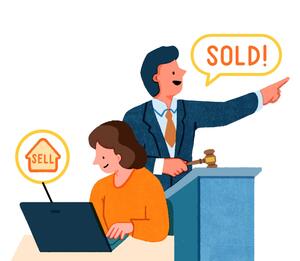 Legal commitment to purchase
This is a big advantage to sellers of properties at traditional auctions. As the buyer is required to pay a 10% deposit and exchange contracts on the same day, this means they are legally committed to the purchase and can't pull out, which gives the seller more security.
What are the advantages to the traditional method of auction?
A property auction can be a thrilling and efficient way to sell property fast, and secure a guaranteed sale.
Exchange contracts on property auction day

Sale guaranteed upon fall of the hammer

10% deposit paid immediately

Completion within 20 working days

Maximises sale value
Although property auctions have historically been used for sales of repossessed homes, they are growing in popularity amongst vendors of all kinds of properties looking for quick sales.  The types of property that generally sell well at auction include:
    Properties that are hugely in demand or have a large number of interested parties

    Repossessed homes that need a quick sale in order to repay a debt

    Properties for which it is hard to find a buyer through a more traditional route

    Properties in poor condition that require renovation

    Unique or unusual properties which are hard to value
Below is our step-by-step guide to selling your property at auction:
1. Selling property at auction - Set a guide price
A guide price will be recommended by us after your free property valuation, which should help you decide whether or not you would like to go ahead with selling at auction. Keep in mind the guide price will always be lower than the current market value, and this is done so the property garners as much interest as possible. It encourages more people to bid, which should drive up the price.
Once a suitable guide price and sale commission fee have been decided, you will receive an auction agreement to sign and return before marketing begins. This acts as a formal instruction to the auction house, and is the first official step towards selling your property.
2. Selling property at auction - Market your property
Leave at least four to six weeks ahead of the scheduled auction date to ensure your property gets maximum exposure. The auction house that is managing the sale will inspect and photograph your property, produce a catalogue and market it ahead of sale. The costs for this vary between auction houses, but you can expect to pay between £250 and £400 + VAT.
The auction house will produce two versions of the property catalogue – one online to be sent via email and a print version, too. The catalogue details every lot that will be offered in the auction house's next sale, with colour photographs of each property. It will be circulated to thousands of people, including adjacent occupiers, local agents, local developers, builders, and property companies, as well as individuals who have previously expressed an interest in similar properties for sale.
3. Selling at a property auction - Get your paperwork in order
Your solicitors will be instructed to prepare a legal pack containing special conditions of sale, title documents, leases (where applicable), searches, planning documentation and office copy entries. This is done in order to have everything ready for dispatch to interested parties, but before anything is sent out draft sale particulars will be sent to you for approval and/or amendments.
It is a legal requirement to undertake an AML (Anti-Money Laundering) check for each seller before the auctioneer can start marketing.  A seller will usually be asked to provide 2 forms of identification (1 photo ID such as your passport or driving licence and 1 proof of address such as a bank statement or utility bill no more than 3 months old) at the time of instruction so this doesn't cause a delay (this will leave a soft footprint on your credit report but it should not affect your credit rating).
4. Selling at a property auction - Organise viewings
Regular viewings of your property will be carried out at pre-arranged times. These viewing times will be published in the property catalogue and online.
5. Selling at a property auction - Manage early offers
During the marketing period, our auction experts will log all interest and enquiries and maintain close contact with potential buyers and sellers, reporting on any offers made prior to auction day. You can accept offers made ahead of auction day. Offers will be sent in writing, by fax or by e-mail to the auctioneer. You are under no obligation to withdraw the property from the auction until contracts have been exchanged.
6. Selling at a property auction - Set a reserve price
Prior to selling at a property auction, a reserve price will need to be agreed. This is the lowest price you are prepared to accept for your property, and the auctioneer will not be authorised to sell below this level. It is important the reserve price is set at a realistic and achievable level. The auction house won't submit a reserve price that is unrealistically high, because they aim to sell the property fast, usually within four weeks.
7. Selling property at auction - Auction day
Depending on demand for your property, the atmosphere of the auction room can be extremely exciting – and you may or may not choose to attend the live auction. The fall of the hammer represents an exchange of contracts and the successful bidder is legally obliged to pay a deposit upfront, usually 10% of the purchase price, which you will receive upon completion, minus the auction house's fees.
The bidder must also sign a memorandum of sale before leaving the room and cannot renegotiate or change any of the terms stipulated. Completion typically happens 20 working days after the auction when the full balance of the purchase price is payable. Prices achieved at auction can often be higher than those achieved by private treaty, i.e. through an estate agent.
8. If the reserve price is not reached
If your property fails to meet its reserve price at auction, someone may still wish to buy it. You will need to decide whether to accept any subsequent offer and advise the auctioneer accordingly. It's quite common for an unsold property to sell within 24 hours of the auction ending, as potential buyers may have simply been delayed or unable to attend.
To get started, simply request our no-obligation, free property valuation or call 0203 6039530 for a chat.