Auction My House or Property
Auction My House or Property - The three main benefits to selling property at auction:
Selling property at auction is a speedy method of sale. The auction process is often quicker than the normal house sales process. Most of the work is carried out before the auction and once the hammer falls, exchange of contracts happens straight away and completion happens within 28 days. It is possible that you may receive an offer for your property before the date of the auction. This is perfectly legal, and it is up to you to consider whether you think you are likely to get a better price on the day of the sale.

You can achieve a higher selling price – The auction process can often help you to achieve the highest possible sale price for your property. This is especially true if two or more buyers enter a 'bidding war' which drives up the price of your property. Putting your home up for auction means that you have control of the minimum sale price. Before the auction you and the auctioneer agree a 'reserve price' for your property. This means you have a financial safety net and if the bids at auction do not reach this reserve, your home will not be sold.

It's the perfect market for particular types of property – An auction can be a much more suitable marketplace for particular types of property. If you own an unconventional property that an Estate Agent finds difficult to value, or your property needs extensive renovation, you might have a better chance of selling it at auction. Many buyers looking for these kinds of properties will search for them at auction rather than through Estate Agents. In addition, if your property has proven difficult to sell, perhaps because of legal complications, an auction offers the chance of a definite sale with no chance of it falling through.
Click here for our free no obligation property valuation and one of the team will phone you back for a chat.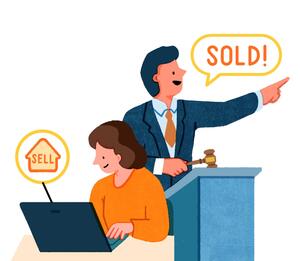 Auction My House or Property to Sell Property Quickly
Using a property auction is the fastest way to sell. If you want a quick sale or have a deadline to meet, then a property auction could well be right for you. Once the hammer has gone down the property is sold but, most importantly, contracts are exchanged on the day of the sale as no further negotiation is permitted. That means the entire sale process – from instruction to exchange of contracts – is achieved within as little as 28 days.
There are a number of types of property suitable for sale by auction, including:
    Houses and flats in need of modernisation and updating

    Properties with tenants in situ

    Repossession Property

    Vacant property suitable for investment

    Commercial Property – vacant or let

    Building Plots or Development Opportunites

    Paddocks or Amenity Land

    Garages or Disused Buildings

    Ground Rents
Auction My House or Property to Achieve A Higher Price
Property auctions offer a fast and effective way of buying or selling a property or piece of land without some of the drawbacks of private treaty sales or the tender process. There has been a noticeable increase in the number of normal, everyday house buyers and sellers who prefer the high degree of certainty, the reduced timescales of 4 weeks from start of marketing to exchange of contracts and the complete transparency that an auction brings with it.
Properties sold at auction therefore often achieve more than the guide price. Competitive bidding will help your property achieve the 'best price' on the day. Your property could achieve a much higher price than expected while the reserve protects you from selling too cheaply.
Auction My House or Property to Guarantee A Sale
The buyer is legally committed to purchase the moment the hammer falls and cannot change his or her mind. The buyer must pay a 10% deposit upfront on auction day, and completion is usually 20 working days later, or whatever time period is stipulated in the terms of the contract. If a buyer fails to complete then they forfeit the 10% deposit they've already put down.
Auction My House or Property to Ensure No Renegotiation
With a property auction there is no renegotiation and there are no discounts. A buyer cannot reduce their offer after the sale has been agreed as is common when selling through a private treaty. Once the hammer falls, the sale is legally binding at the final bid price.
Auction My House or Property to Maintain Tenancy Income
Investment properties are now being sold at auction on a regular basis, without vacant possession being obtained in advance. This is a win-win for both parties. By continuing the tenancy, the seller will continue to receive rental income until the completion date, and the purchaser will start receiving a rental income from that date onwards, with no risk of void periods.
Auction My House or Property to Achieve Higher Profile Marketing
Selling at auction will broaden the marketing of your property as the catalogues are sent out to developers, property dealers and investors who are interested in buying. Your property will also be advertised extensively, across local and regional press, national specialist publications and quality catalogues. A relevant online audience is also targeted.
Auction My House or Property - Open House Viewing Days
The auction house will arrange viewings for your property. All you need to do is make the property look presentable in order to entice potential buyers.
CONTACT US TODAY FOR YOUR PROPERTY AUCTION APPRAISAL
Click here for our free no obligation property valuation and one of the team will phone you back for a chat.