Clive Emson Auction Roundup December 2022
Leading property auctioneers, Clive Emson report on their final auction of 2022....
------
We've made it through the last auction of the year! And what an auction it was. From churches to schools and a plethora of idyllic rural cottages, December really gave our auction house a treat. 
But don't be sad because it's over for the year. There are still a few unsold lots for you to browse through on our website or our newsletter to keep you busy. In the meantime, let's take a look at some of the properties that did sell this month.
Stone cottage for refurbishment
Up first, we have Lot 16, a quaint stone cottage for refurbishment. This picturesque  cottage is located in the hamlet of Kingston, just a short drive from Chale Green, near Ventnor on the Isle of Wight.
Although the inside of this cottage requires significant refurbishment, the outside is something of a rural idyll with excellent views. Indoors is an entrance porch, entrance hall, living room, kitchen, and cloakroom with W.C (on the ground floor), while the first floor holds two bedrooms and another W.C. To the front of the property, you can see the countryside for miles. But Lot 16 has enough countryside of its own with a plot of 0.18 hectares (0.43 acres), including the footprint of a former barn.
This barn currently exists in remains but has the potential to be redeveloped subject to all necessary consents being obtainable. This property would be perfect for both owner occupation or for use as a holiday home. Who knows, the new owner may even rent the property out for commercial holiday letting. In the end, Stone Cottage sold for £240,000. 
Two-bedroom flat with a view of the river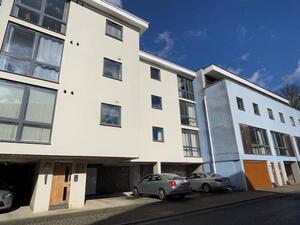 Moving over to Kent for our next sale, we have Lot 50. This lot is comprised of a spacious two-bedroom flat located on the third floor of a modern purpose-built block of flats in Maidstone. 
Maidstone is a hub for businesses and retail and this block of flats is very central indeed. Not only is it close to the town centre, but it is also conveniently near to the mainline railway station too. As an additional benefit, this flat comes with stunning views overlooking the river and its own parking space. What more could you want?
On the ground floor is a communal entrance, while the third floor has an entrance hall, an open kitchen and living room, two bedrooms, and a bathroom with W.C. This lot sold for £150,000 as the remainder of a 155-year lease from 1st January 2006 at a current ground rental of £270 per annum. We look forward to seeing what the new owner does with it — whether investment or owner-occupation. 
Seaside studio apartment in Torquay  
Moving even further South, we come to Lot 89, a studio apartment in Torquay, Devon. The new owner of this property has taken on an exciting and rare opportunity to acquire an apartment with stunning views over both the Torquay marina and the breathtaking Torbay coastline itself. 
Although the apartment itself requires some minor work to improve its condition, when these are completed the property will be an excellent investment or chance for owner occupation. 
The apartment has an entrance hallway, kitchen and living room, bedroom, and a bathroom with a W.C. As well as this, there is an allocated parking space at the front outside with communal gardens to the rear. This lot was purchased as the remainder of a 120-year lease from 1985 for £65,000. 
Vacant church with potential 
Remaining on the coast, we head to the White Cliffs of Dover for the next sale at our December auction. Located in West Langdon, Dover, Lot 93 takes the form of a vacant church. While previously used for worship, this church had stood empty for a while. 
The location is ideal, between Dover and Deal in a rural-coastal location, nestled among adjacent cottages. As for what's inside, there is an entrance porch and a large church hall alongside gardens to the rear and side with a small storehouse too. This church sold for £103,750 at auction and we look forward to seeing if the new owner converts the property or keeps it for alternative uses.
Former school with conversion potential 
Lastly, sticking with the theme of conversion, we have Lot 94, an old school that now lies abandoned. Located in the heart of the village of Ash, near Canterbury, this property spreads across two separate buildings — one of which was The Old Boy's school and the other The Old Girl's School.
Each building has had its own accommodation proposed to turn the structures into houses. The Old Boy's School is intended to be two separate dwellings with multiple bedrooms and bathrooms, a front and rear garden, and open-plan living and dining areas. 
The plans for The Old Girl's School are quite similar, also with two separate — but spacious — dwellings with shower rooms, a garden, and open-plan living spaces. Between the two buildings, there is a shared courtyard space for parking and cycle storage. 
Planning permission for the above four dwellings to be constructed has been granted in October of 2022. This lot sold for £506,000 and we wait with bated breath to watch the transformation happen.
That's it in terms of auctions for 2022. It has been quite the year for Clive Emson. Thank you to all who have taken part in our auctions — buying, selling, or just spectating.
Sun Jan 08 2023